Announcing The Winners
Over 300 qualified and deserving women applied for the 2017 Women's Bicycle Mechanic Scholarship! Sixteen were selected and will attend UBI's Professional Shop Repair and Operations Workshop in Ashland, OR, beginning on January 30, 2017.
Congratulations to:
Allison Greenlee Good Karma Bikes, San Jose, CA
Ashanti Austin The Hub Bike Coop, Minneapolis, MN
Bryonna Baines Cycles for Change, St. Paul, MN
B Vivit Huckleberry Bicycles, San Francisco, CA
Camille Lampel Kween Kargo Bike Shop, Brooklyn, NY
Cassandra Faustini Devil's Gear, New Haven, CT
Danielle Fry Ogden Bicycle Collective, Ogden, UT
Danni Limonez West Town Bikes, Chicago, IL
Elizabeth Bejan Revolve Community Bike Shops, Kansas City, MO
Elyse Bejasa Dashing Bicycles, New Orleans, LA
Geneva Balladares The Bike Shop Hawaii, HI
Kelly Paduch Rocktown Bicycles, Harrisonburg, VA
Laura Solis Western Bikeworks, Tigard, OR
Lee James 718 Cyclery, Brooklyn, NY
Sara Ramirez Bikes Together, Denver, CO
Vera Arias The Miami Bike Shop, Miami, FL
Women's Bicycle Mechanic Scholarship
The scholarship is a joint effort of QBP and bike industry partners to advance specialty retailers through education and training of women in the bike industry.
This scholarship has two primary goals, and recipients are chosen based on their potential to do them:
To keep and encourage talented women working in the bike industry
To better serve and grow women ridership
The scholarship covers lodging and tuition to UBI's two-week Professional Shop Repair and Operations class, and upon completion of the course, the recipients will receive a small stipend to help defray the personal expenses of travel and meals.
A special thank you to the sponsors of the 2017 scholarship! We couldn't do this work without their help: QBP, SRAM, Park Tool, Michelin, UBI, Jagwire, Saris, Kryptonite, White Lightning, Stan's No Tubes, DT Swiss, Swiftwick, and Dero.
Thank you for your interest and support of the Women's Bicycle Mechanic's Scholarship.
Introducing our class of 2017: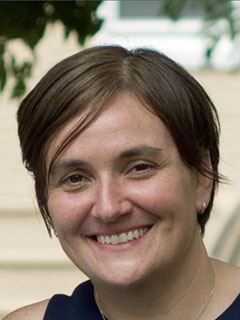 Allison Greenlee
I'm a life-long cyclist but fairly new to the industry, and am grateful to work at Good Karma Bikes! The QBP Institute will help me bring biking access, education and community to women in San Jose. I'm excited to develop relationships and network with other women in the cycling industry.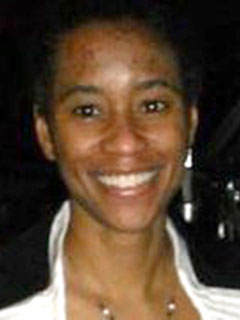 Ashanti Austin
I am a Black cyclist in Minneapolis, MN at The Hub Bike Coop. I am a native Californian and the first Black co-owner at The Hub, 2008 -2013. I want to continue to help facilitate the visibility and safety of sexual minorities and people of color in the Twin Cities. African-Americans make up 18% of residents, but make up 48% of tickets and arrests. My goal is to continue to collaborate in developing programs to raise awareness for all cyclists who struggle to enter mainstream cycling culture.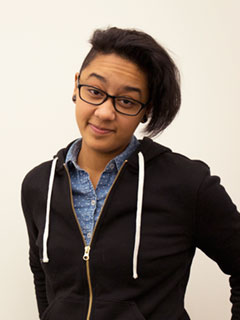 Bryonna Baines
My name is Bryonna and I work at Cycles For Change as a Mechanic and Instructor. I love riding and working on bikes as well as getting marginalized people access to riding and wrenching opportunities. With this training I plan to use cycling and bike repair as a vehicle for social change.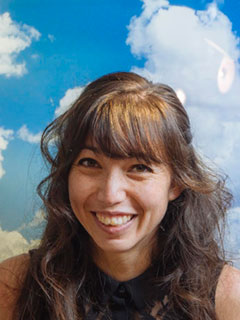 B Vivit
I started in the bike industry about five years ago, but took to it with a passion. In two short years, I was managing a bike shop for a larger, department store like company; which allowed me to create spaces for women and other earnest learners to gather and share knowledge. Now I am at a different shop, continuing my tradition of encouraging women in a setting that I have a more freedom and can take a personal approach; in addition to building my own brand of bikes centered around women.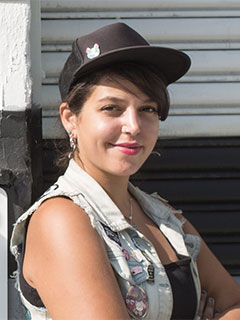 Camille Lampel
My name is Camille Raneem Lampel, the founder of Kween Kargo Bike Shop in Brooklyn, NY. I have been a bike commuter for over half a decade, and what was once a practical transport choice has developed into an obsession. Bikes have given me so much freedom & inspiration; I want to be able to pass that on. Thank you QBP & UBI for helping me do so!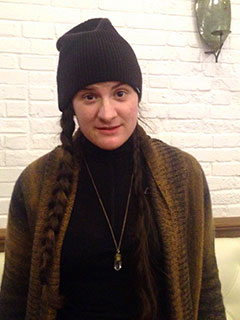 Cassandra Faustni
I fell in love with bikes and cycle culture in New York City, where I've been a bike messenger, a bike advocate, and even worked in some of the city's top bike shops over the years. I currently work at the Devil's Gear in New Haven, CT, where I'm a salesperson and run a fast-growing twice-weekly women's road ride. I hope to use my new skills to teach other women maintenance and repair, giving riders the confidence to pedal longer, further, and faster than they ever thought possible.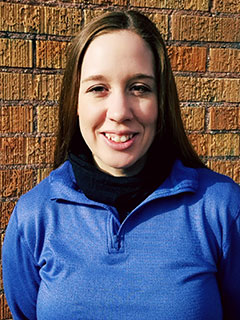 Danielle Fry
My name is Danielle and I am the Director of the Ogden Bicycle Collective. I have been a long-time bike commuter and have recently gotten into mountain biking. When I moved to Ogden a year and a half ago, I started taking bike mechanic classes at the Ogden Bicycle Collective, was hired as the Volunteer Coordinator not long after, and last Fall promoted to Director.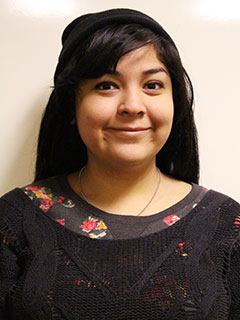 Danni Limonez
Hey, I am Danni. I live in Chicago and work at West Town Bikes. The bike shop is like home for me and to some kids who love it just as much as I do. I like to focus on youth more than bicycles but am looking forward to wrenching and teaching the kids back at home my new skills.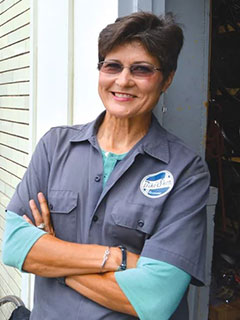 Elizabeth Bejan
I am Co-Founder and Current Executive Director of the Revolve Community Bike Shops in Kansas City. I am a League Cycling Instructor of the League of American Bicyclists, and our Earn-a-Bike Program has recirculated 1200 bicycles to Participants. I am founder of The Roasterie Flyers, a women's racing team.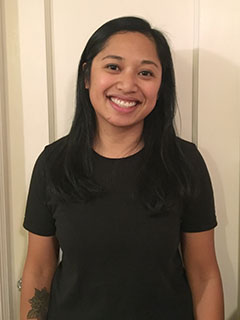 Elyse Bejasa
My name is Elyse Bejasa. I am a NYC native who began cycling three years ago to commute to my job as a fundraiser for a nonprofit. I began working in bike shops in 2016, and I currently coordinate events and work the sales floor at Dashing Bicycles, the ONLY woman-owned bike shop in the Deep South. In the last three years, I have focused on growing the women's cycling community in New York, and now New Orleans, and getting more women of color comfortable on whatever bike they want to ride. I currently live in New Orleans with my dog and three bikes.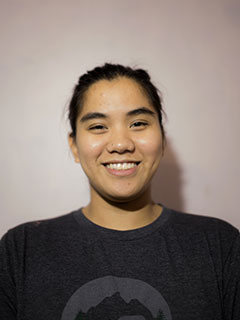 Geneva Balladares
My name is Geneva. I'm currently employed by The Bike Shop Hawaii as a mechanic. I am passionate about the things I love, some which are nature, photography, judo, and mountain biking. I hope to further my career in the bike industry with this training.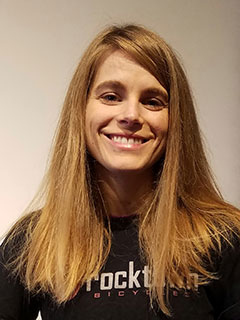 Kelly Paduch
My name is Kelly Paduch, and I work at Rocktown Bicycles in Harrisonburg, Virginia. I am the Women's Ambassador at my shop, and it is a joy to see growth occurring in women's cycling not just in our community, but also nationally, and world wide! I LOVE to ride bikes, and am SO passionate about getting more people on bikes; it just makes for a better world.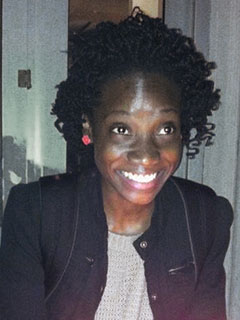 Laura Solis
I am a first-generation American who proudly identifies as an Afro-Latina/Garifuna, that learned English as a second language, in a single-parent, low-income, household in the South Bronx. I love my people; my knowledge is for them, always.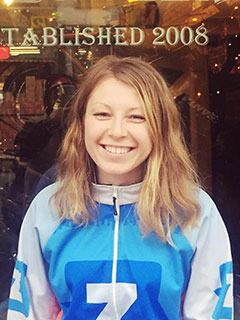 Lee James
My name is Lee James. I work at 718 Cyclery in Gowanus, Brooklyn. I'm stoked on riding roads and trails, fistfuls of snacks, and fuzzy critters.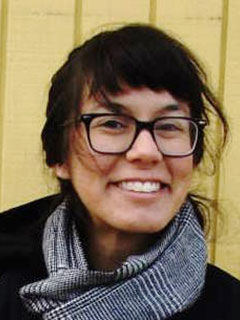 Sara Ramirez
My name is Sara. I have a zest for climbing rocks, trying out bike trails in the mountains, creating fine wooden spoons, playing music, and making sure I am learning along the way. I hope to use this wonderful opportunity to help others be knowledgeable and educated about their form of transportation.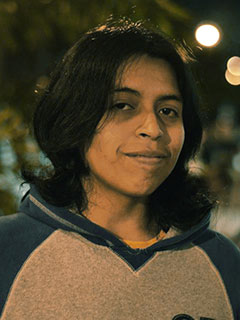 Vera Arias
My name is Vera Arias, and I am a full-time bicycle mechanic at The Miami Bike Shop. My goal is to improve my mechanic skills and teach other women in my community how to do it for themselves! In addition to being a bike mechanic, I also make bicycle inspired art that I sell at local farmer markets in Miami.